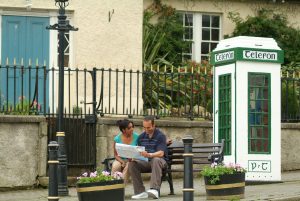 Disney has arrived as sightseers and day trippers make their way to the County Wicklow village of Enniskerry. Enniskerry has been transformed with colourful flower-festooned shopfronts and houses. Disenchanted, is a live-action, animated romantic musical comedy. Starring high-profile cast members including, Amy Adams and Patrick Dempsey, and is the follow-up to the 2007 fantasy film Enchanted.
Enniskerry village is located just South of Dublin city in County Wicklow. The surrounding area has featured on the big screen for decades. Way back in 1944 we saw Laurence Olivier star in Henry V.
Recent movies include:
Black Beauty, PS I Love You, The Count of Monte Cristo, and King Arthur. TV series including The Tudors, Camelot, and Vikings have all been huge hits.